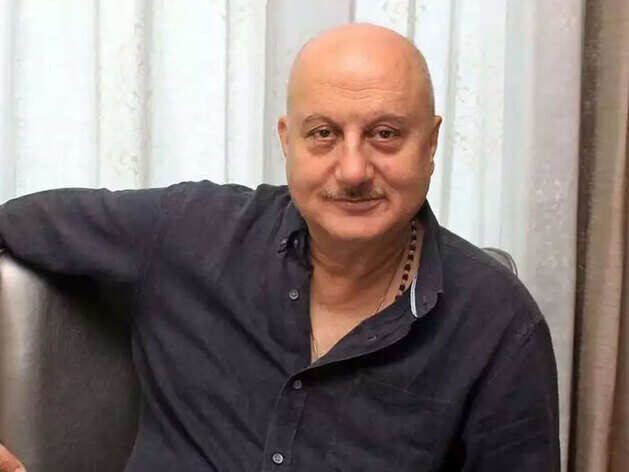 Versatile artist Anupam Kher is in discussion these days, regarding his show Anything Can Be. With the intention of giving hope to the people in the lockdown, they have brought this popular show to their own digital portal. Here he talks about his show, Anything May Be Moment, Lockdown Challenge, Salary Cut and the soon-to-be-shot shoot.
What was the first moment in your life when you thought 'anything can happen'?
– I was told by my parents that when I was born, there was an English nurse who produced me. He told my mother that you are just 19 years old and you may have many children, so give me this child in your lap. I want to adapt it My mother did not adopt me. But I felt that I was in demand as soon as I was born. Later on being sensible, I felt that if it could happen then anything could happen.
Why and how did you come up with the idea to bring your show Anything Can Be on your digital portal?

-I didn't think about it. I started this play 15 years ago. I was watching this play one day in this lockdown, then I felt that if this play is reached to the people, then maybe they will get a shock somewhere, because today people are very nervous and feel very insecure. Play will also entertain people as being funny, because it is about a person who laughs at his failure. But it never leaves hope. I brought the show to my website to give people hope in this lockdown.
How did you deal with the lockdown?

-With Positive Attitude, but for Positive Attitude it is very important to be positive. Right now I am sitting alone in Mumbai for 74 days and Kiran ji (actress wife Kiran Kher) is in Chandigarh. Before the lockdown, I considered myself a very restless person. I had to go everywhere. Every job had to be done. I couldn't even sit in one place. But when I sat at home for 74 days, that too alone, then I felt that there is a lot of restraint and stagnation in me. During this time many things happened to myself and I understood myself a lot. I have also noted some points, perhaps some book came out of it. If only the lockdown did not happen, I would have met my mother, I regret that. Anil Kapoor would have met my good friends.
Is there any problem in lockdown alone?

– Well, my day is cut well. I used to feel a little sad from 4 to 5 in the evening. That's why I made my routine. Like I get up early in the morning, then read books, exercise, watch something on TV. But I do not watch news nor read newspapers. I keep talking to those close to me on FaceTime every day. Those who bring perseverance in me and are the basis of my pillar.
The government has given permission for shooting. What would you like to say?

-As we shall be told, we shall be shooting in the same manner. There will be change and everything has changed. Change first gives difficulty and then becomes habit. First used to wash clothes by hand, then came the washing machine. My mother also had a problem at the time as to how the clothes can be washed in the washing machine. Today we have forgotten that there was a problem in demonetization. Whatever new standards will be made in shooting, we will get used to them in no time. In some time they will start to look normal. We will be shooting as per the new instructions.
Many stars of the film industry have taken the initiative to reduce their salary to support producers, what is your opinion?

– Those who were character actors, they used to take as much as they got. There was never any revolutionary change in his salary. Yes, people who used to get more, if they take less money, it will make a difference. I want that every human being should contribute a little from his salary for our workers. It is important to improve their lives.
As an artist, when you express your views with a particular political ideology, don't you think that as an actor it can hurt your image?

– Being an artist is a part of my life and not my whole life. My thoughts are related to me. If I am not living with my thoughts, then I am not living my own life. There is no person in the world whom everyone likes. I just don't want to do anything that hurts anyone. It is very difficult to make all the people happy anyway, so you should at least stand firmly with your thoughts.