The writer, director and filmmaker of Bollywood's best and superhit films, Apurva Asrani, has made a big disclosure on social media. He was in a relationship with partner Siddhant Pillai for many years (Apurva Asrani Announce Separation With Siddhant Pillai) but now everything is not well between the two.
Even before this, when Apoorva announced his relationship (Apurva Asrani and Siddhant Relationship), everyone was surprised. They had also informed everyone about this through social media and told that they love each other very much.

LGBTQ was considered a role model in the community
However, now their relationship status is no longer the same. Apoorva revealed in the new post that he has parted from his partner Siddhant. He wrote, 'You all have to tell with a heavy heart that I and Siddhant have split up. I know we were seen as role models in the LGBTQ community but I want to tell you that every day of these 14 years was important. '

I am writing without regrets
Apoorva further wrote, 'There are no references or role models in India for couples of the same s * x to draw inspiration from. We feel that we have chosen our path but we are our first generation of India who have fully lived their love. In such a situation, I am writing all these without any regrets.

Appeal to honor privacy
The filmmaker writes, 'I request all of you to respect our privacy and feelings and do not speculate in any way. Leave it all to us. Don't tag us in your message, this is a very difficult time for us. '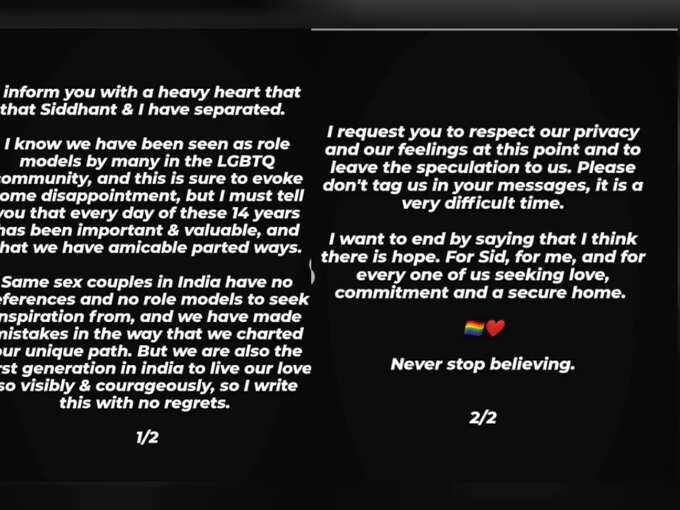 Never stop believing
According to Apoorva, 'I want to end all this by saying that there is still hope left. For Siddharth, for me and for all those who want love, want commitment and a safe house. Never stop believing. ' Let me tell you, earlier it was believed that Apoorva and Siddhant are cousins.