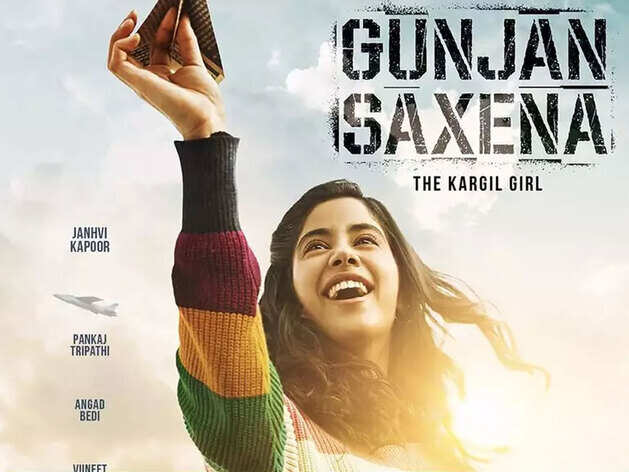 You know there was a time when an Indian girl could not dream of becoming a pilot in the Indian Air Force. Today Indian girls are flying not only helicopters but also fighter aircraft in the Air Force. The dream of bravely flying across the sky was witnessed by an Indian girl named Gunjan Saxena and she has proved with her bravery that girls can never be less than anyone. Gunjan was the first woman pilot of the Indian Air Force and was awarded the Shaurya Chakra by the Government of India for showing indomitable courage in the Indo-Pak war of Kargil. His story is based on 'Gunjan Saxena: The Kargil Girl'.
Review: Our Indian society has been patriarchal but history has shown that daughters are loved most by fathers. The story of this film begins just here. The daughter is Gunjan, Jahnavi Kapoor and her army officer is in the role of father, highly talented actor Pankaj Tripathi. The first line of the trailer reveals the struggle of Gunjan's life, "If you want to join the Air Force, then show it as a foggy or else go home and drive the cylinder." In the film, Angan Bedi, who plays Gunjan i.e. Jahnavi Kapoor's brother, is himself an army officer and is somewhere prone to the same maleist thinking. In the trailer, Pankaj Tripathi's dialogues are amazing – Look, the plane blows the boy or the girl, both are spoken by the pilot.
You will be happy to see Pankaj Tripathi in the trailer itself. Jahnavi Kapoor looks much more mature than her previous film, but here is a surprise package, Vineet Kumar Singh, who has become an officer who does not like women coming into the air force. Vineet Kumar Singh looks great in the gray shade. However, this film should not be seen for any actor but for the bravery and struggle of Gunjan Saxena. The film is directed by Sharan Sharma and is going to release on Netflix on August 12.