Paytm! A name that has been on almost everyone's tongue these days and is proving to be of most use. Be it TV, advertisement, newspaper or social media, you will see or hear Paytmkaro everywhere. After the demonetisation of 500 and 1000 rupee notes by Prime Minister Narendra Modi last week, people have become one of the largest online Paytm Wallet in the country.
Paytm
The user base has increased rapidly. There is a cash crunch in the market and people are taking full advantage of Paytm Wallet to avoid long queues.
Be it mobile bill recharge or bill payment, taxi money or metro card recharge. There is a solution to your every problem on Paytm. Book movie tickets, or paytm for flights, hotels, everyone and get rid of long lines. The mobile wallet can be used to make payments at people's cafes, coffee days or even at any medical shop. Simply put, this is the era of mobile wallets which are creating a cashless society with the change in the economy. Today we will tell you, what is Paytm? And how can you use Paytm Wallet?
What is Paytm Wallet
Paytm is a semi-closed wallet and no cash can be withdrawn from it. Payment for goods and services can be done with Paytm at many different locations (merchant locations). At the time of the introduction of Paytm, only mobile recharge, DTH plans and bill payments could be done with it. After this, in February 2014, the company forayed into the e-commerce sector. Paytm's wallet partners include Uber, BookMyShow and MakeMyTrip among others. Apart from this, Paytm has partnerships with many companies in the shopping, travel, entertainment and food sectors.
, What is Mobile Wallet? Learn about popular mobile wallets ,
There are many categories in Paytm, including Book on Paytm, Recharge and Pay for, Shop on Paytm, Offers, Train Tickets, Electricity Bill, DTH recharge, Mobile recharge, Today's Bazaar. Paytm also has its own e-commerce platform.
After the recent note ban, Paytm has also launched a new 'Nearbuy' feature. Through this, you will be able to easily find the shopkeeper around you who takes payment through Paytm Wallet. This feature will help those customers who are short of cash. Paytm's 'Nearbuy' feature has a directory of over 8 lakh offline shoppers of the company across the country. The company issued a statement via email to save that around 2 lakh shopkeepers have been added to this feature under the first phase.
how to use paytm wallet
Paytm is very easy to use. For this you have to login. For this, you will need to verify your mobile number and e-mail. Once you have successfully verified and logged in, any service of Paytm can be availed.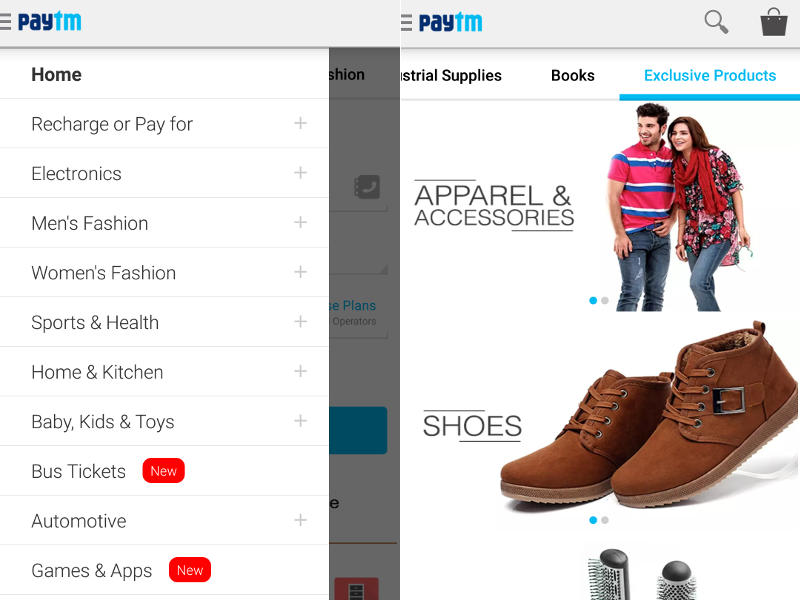 You can store your debit card, credit card details to avail any service faster. Apart from this, you can also use net banking.
Notably, Paytm supports booking on IRCTC and also has an RBI license for payment bank setup. With this license, Paytm offers to make deposits in current and savings accounts, issue debit cards and offer internet banking services.
how to use paytm wallet
Paytm also has an inbuilt wallet. By recharging this wallet, bill payment can be done in a very short time, any kind of recharge can be done without delay. Paytm Wallet can be recharged through Debit Card, Credit Card, Net Banking and IMPS Merchant Payment. You will get passbook feature in Paytm Wallet. In which all your transaction information is available. Four features available in Paytm Wallet are Passbook, Redeem Voucher, Send Money, Request Wallet Upgrade. With Paytm Wallet you can send money to anyone through mobile number or bank account. Apart from this, vouchers found on Paytm can also be redeemed.
Paytm is one of the best and now probably the most useful app to download on your smartphone. It is easy to use due to its partners spread across the country. Whether you want to book an Uber cab or order food from Foodpanda, Paytm is there. Paytm is now attracting the attention of its customers with good offers on its e-commerce site. Apart from this, you can also buy all types of electronics, home appliances, footwear on Paytm with cashback offer.
There is also the facility of metro card recharge from Paytm. Delhi and Mumbai Metro commuters can now easily recharge their Metro cards from Paytm without having to queue. On every weekend, Paytm also gives huge discounts to the user on many other products including Weekend Bazaar. Paytm has gained immense popularity on Twitter with the tag #PaytmKaro. Apart from this, for any complaint, you can email care@paytm.com anytime for 24×7 customer care. or paytm care page can visit.