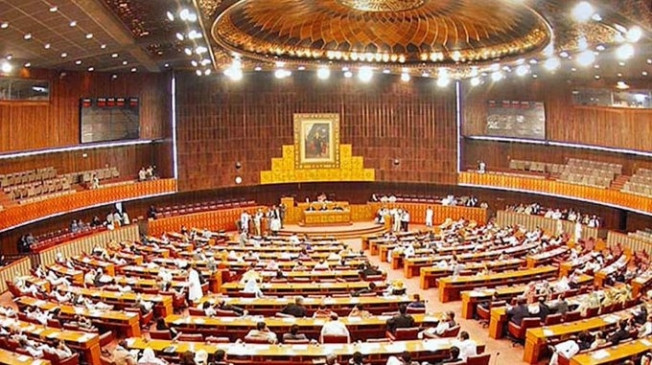 Digital Desk, Islamabad. Pakistan's National Assembly on Monday passed a resolution condemning former Prime Minister Imran Khan's controversial statements on Pakistan's nuclear program and armed forces. According to the report of Sama TV, the resolution said that the House condemns Imran Khan's interview in which he said that if the establishment does not take the right decision, then Pakistan will be divided into three parts and Pakistan Army will be destroyed. Will go
The resolution said that Pakistan's army has made great sacrifices for the defense of the country, including the war on terrorism, for which the House pays tribute to it. It said that the government should approach the Supreme Court against the former prime minister. According to the report of Sama TV, Federal Minister Ayaz Sadiq said during his speech that Imran Khan said big things in the lust of power, which he fears that Pakistan will suffer in future.
He said that the armed forces have sacrificed many lives in the fight against terrorism. Sadiq said, the person who says that Pakistan will be divided into three parts. He said that Imran Khan talks about the nuclear program, which was started by Zulfikar Ali Bhutto and ended by Nawaz Sharif.
Sadiq said, it seems that he (Imran Khan) was also one of the people showing a fragmented Pakistan in the maps, as the country's separation comment supports this. We value our political affiliations and parties, but nothing is more dear than Islam and Pakistan, he said. The minister said that since the day Imran Khan lost power, he has been making a ridiculous statement. The minister also said that the MPs who did not sign the resolution would be deemed to be in favor of Imran Khan's statement.
Disclaimer: This is a news published directly from IANS News Feed. With this, the team of bhaskarhindi.com has not done any editing of any kind. In such a situation, any responsibility regarding the related news will be of the news agency itself.