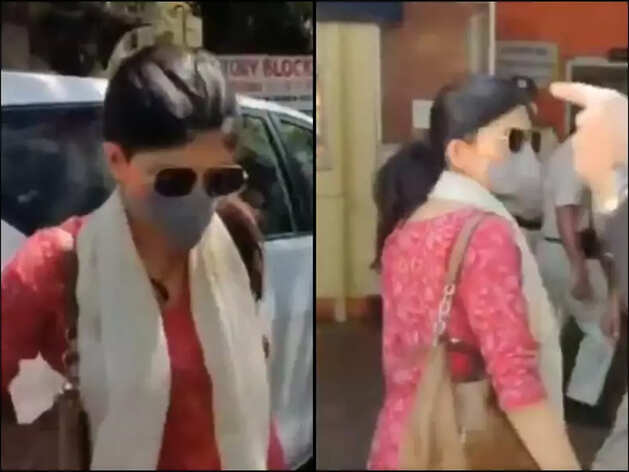 Police are constantly investigating the case of Bollywood actor Sushant Singh Rajput and now his last film 'Dil Bechara' co-star Sanjana Sanghi has been summoned to the police station. Sanjana was seen outside the Bandra police station. Police is questioning him about Sushant's death. However, let us say here that in the year 2018, Sanjana was also in the discussion about her allegations on Sushant, after which she herself denied it.
Sanjana recently wrote a note with the poster of her film. Sanjana had said, "Nowadays, a different perspective is trying to see everything, thought to talk a little with you all. At this time, the pain is considerable. Do not increase more, right? It is difficult enough to do all this alone. Release yourself from this stubbornness, don't you? These difficulties are made a little easier, don't they? If you want to make a blockbuster, then your love will be made! There is always a need for box office, right? Do not look at the size of the screen about the film, instead you can make the size of the heart as big as you want, as much as you can fill it with love and pride.
Sanjana further wrote, 'Thought if Moral support is to be given, then maybe decide to #DilBecharaOnAnyScreen? And forget #DilBecharaOnBigScreen for now, right? And where to wait. Have been waiting for months, are going through problems, now is the time to watch the film, and the time to be swept away in memories. You have so much love to give, just give it unconditionally? Sadness is too much, give me a little chance of happiness, no.
The film 'Dil Bechara' is the official Hindi remake of the 2014 romantic romantic drama film 'The Fault in Our Stars'. Let us know that it will be released on digital platform next month. The most important thing is that this film will also be seen by non-subscriber viewers so that this film can reach the heart of every lover of Sushant.
However, let us tell here that in the year 2018, Sanjana was also in the discussion about her allegations on Sushant, after which she herself denied it. The talk is of those days in the year 2018 when there was a lot of air in the industry regarding #MeToo. Then there were reports that Sushant Singh Rajput tried to be over-friendly for co-star Sanjana Sanghi, due to which the actress had made up her mind to leave the film. There were also reports that due to this the shooting had to be stopped. However, neither Sanjana said anything about this and the studio also denied these things. After this, the actress herself had given a statement in this case, calling these allegations false and calling it a fantasy.
Sanjana Sanghi released a statement on the issue via social media. He wrote, 'I returned from the US's long trip after which I read many unfounded reports about misbehavior and exploitation on the sets of the film Kizi and Manny. I would like to make it clear that nothing like this has happened to me. Please stop these fantasies now. '
After these allegations surfaced, Sushant himself shared screenshots of the chat between him and Sanjana on social media. He denied all the allegations. He had said that all this was being done to tarnish his name.
In the case of Sushant's suicide, the police has taken statements from his family and some people from the industry who are close to him, including people like Riya Chakraborty, Mukesh Chhabra, Rohini Iyer.