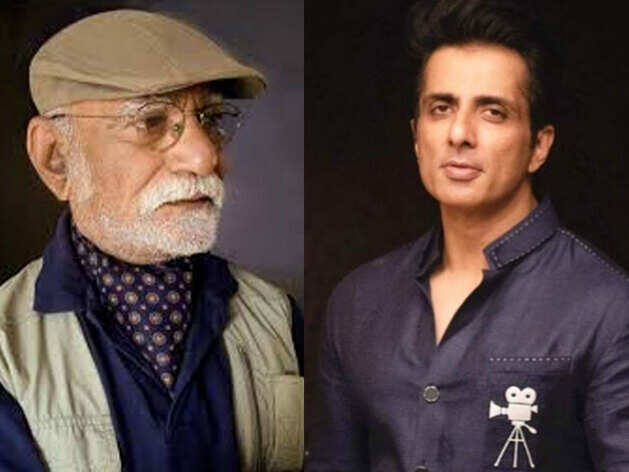 Corona virus broke everyone's back in the country and people who were away from their homes faced food crisis. Due to the lockdown, a large number of people were trapped in Mumbai and then Actor Sonu Sood pledged to help the people. He has brought thousands of people to his home so far. The latest case is of Surendra Rajan, his co-star in Sonu Sood's film 'R Rajkumar'. 80-year-old Surendra Rajan came to Mumbai to shoot a web series which has just been canceled and he was stuck here.
Surendra Rajan is away from the industry for a long time
Surendra Rajan is the same person of 'Munnabhai MBBS' whom 'Murali Sharma' i.e. Sanjay Dutt gave magic spell in the hospital. Surendra Rajan has been away from the industry for a long time and he had a lack of work, no income, so went financially weak. In a conversation with Navbharat Times, Surendra Rajan said that due to being a junior artist, his payments to many projects have been stopped.
Sonu Sood spoke to Surendra Rajan on phone

Navabharat Times contacted Sonu Sood in this regard and gave information about Surendra Rajan. Sonu immediately called his co-star Surendra Rajan and took all the details from him. Surendra Rajan later confirmed this conversation and told us, 'Sonu Sood has asked to make arrangements to send Satna by train from June 17-18. I did not talk much to him but he also asked about my condition.
Sonu Sood's work is extraordinary and amazing

Surendra Rajan said, 'Sonu Sood's work is amazing and I am surprised that a man is working like this. One cannot do this unless there is tremendous will to help people from inside. He is doing extraordinary work and no one can do such work till there is no faith in humanity. There are so many people in the industry. People like Son Sood are rare.
After leaving Mumbai I will stay at my disciple's farmhouse

Surendra Rajan told, 'For now I want to leave Mumbai and stop at a forest farmhouse in Ajaygarh. The farmhouse belongs to a maharaja there and I used to teach petting to his maharani. They say that you can stay here as long as you want. One of my disciples keeps sending money to eat and drink. I am so old and I have not done any favor in the industry till date and do not want to take it. '
Very good relationship with Sanjay Dutt

Surendra Rajan told, 'I have worked with Sanjay Dutt in Munnabhai MBBS and I have very good relations with him. I consider him like a son. I once came to ask for help from him but I do not want to ask anyone for help. Once Sanjay Dutt introduced him to his father Sunil Dutt, he said that he had never seen them, but he is a very senior artist. On this, Sanjay Dutt said that this is not an actor, he is a great painter and photographer. Later too, I have been meeting Sanjay Dutt and I can ask him for help and cannot ask anyone.
Landlord lags behind on rent

Surendra Rajan said, 'My landlord is behind on rent but I had almost run out of money. One of my disciples paid 45000 rupees for three months. There was help from the RSS. They gave me ration. '
Sonu Sood became Sahara in times of trouble