The whole country is completely disturbed by the second wave of Coronavirus. From ordinary people to business, it has had a very bad effect. Bollywood's famous director Aditya Chopra has recently made a request to the CM of Maharashtra to vaccinate the daily worker working in the Hindi film industry, as well as to buy 60,000 coronavirus vaccines. Allow!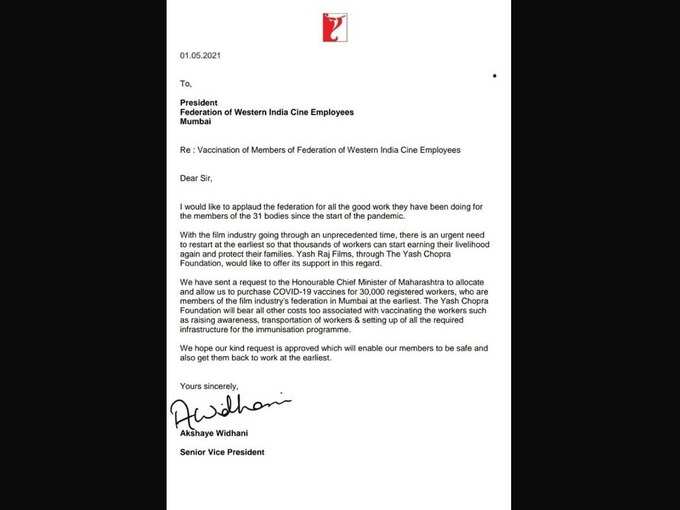 The YRF has urged the Chief Minister of Maharashtra, Uddhav Thackeray (uddhav thackeray) to assist the company in procuring 60,000 COVID-19 vaccines and the expenses associated with the vaccination program for these workers. The YRF has also written a letter to the Federation of Western India Cine Employees (FWICE), stating that the film industry is going through a critical situation, it needs to be implemented as soon as it is possible for the daily worker's life and family. Is a question of Because if something happens to them, then the whole family depends on them, so please help such people.
Aditya Chopra further writes that we have currently requested the Honorable Chief Minister of Maharashtra to register to purchase COVID-19 vaccine for 30,000 laborers. In this list there are people who are members of the Federation of Film Industry of Mumbai. Also, this letter states that the Yash Chopra Foundation will bear all other costs related to this entire program, such as establishing all the necessary infrastructure for awareness raising, laborers transportation and immunization programs. We hope that our request will be approved as well so that our workers can return to work as soon as possible.